Alake of Egbaland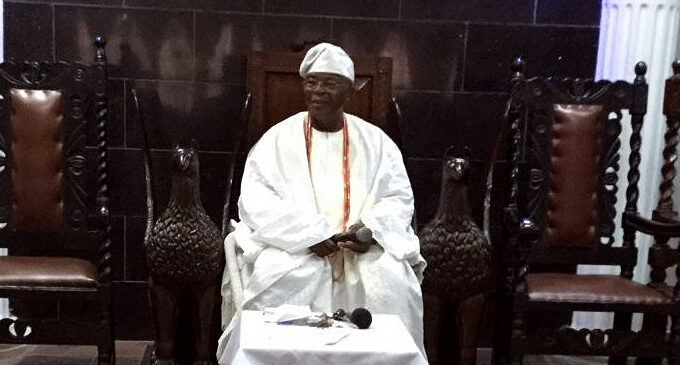 Title:
Alake of Egbaland
Full Name:
Adedotun Aremu Gbadebo III
Lineage:
Gbadebo
Coronation:
24-08-2005
Palace:
Alake's Palace
State:
Ogun
Profile:

He is a grandson of Oba Gbadebo, the sixth Alake of Egbaland, who ruled from 1898 to 1920 and one of the six children of Omoba Adesanya Osolake Gbadebo and Madam Amoke Gbadebo, a distinguished Egba woman from the Ikopa area of Abeokuta.

Born on Tuesday, 14 September 1943, his birth was coincidental with the Centenary Celebration of Christianity in Egbaland, a faith and religion that carved out a niche for Egbaland, Egbaland was where the first Church was erected not only in Nigeria but also in the entire West Africa. Providence could not have chosen a better place and time to locate the young prince. He too had the fruits of good Western education to which the Egbas had an edge in Nigeria due to the early exposure to Christianity.

Fruitfully married to Dr. Tokunbo Gbadebo (nee Alawiye, daughter of the legendary Yoruba novelist and author of the popular Alawiye series, Chief J. F. Odunjo), Oba Gbadebo is a committed family man. Blessed with four sons, who are already distinguishing themselves in their various professional callings, Oba Gbadebo holds the family as the cradle and nurture of a better society.

Today, Oba Adedotun Gbadebo is ascending the throne of his forefathers. A devout Christian, a dedicated man, a devoted public servant, denonair in social life and delightful in vision, long will you reign to take Egbaland to her destiny.

Ade a pe l'ori, Bata a pe l'ese
Ase a pe l'enu, irukere a d'abere,
K A B I Y E S I.