Peremobowei of Kabowei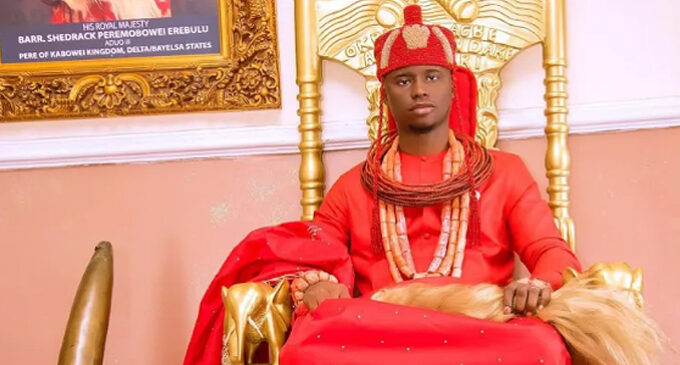 Title:
Peremobowei Kabowei
Full Name:
Shedrack Erebulu Aduo III
Lineage:
Erebulu Aduo
Coronation:
23-10-2017
Palace:
na
State:
Delta
Profile:
Early years

The year the new king was born was the year his late father, His Royal Majesty Major Lucky Meshack Erebulu Aduo II (Rtd) of Pere Kabowei Kingdom, ascended the throne of his forefathers. His late father reigned for 28 years, but he was barely 28 years old, when his late father joined his ancestors.

Sometime in August this year, after a rigorous screening, Kabowei Council of Chiefs, selected His Royal Majesty Peremobowei Shedrack Erebulu Aduo III to succeed his father on the throne. He is barely 30 years trained as a lawyer.

On October 23, 2017, the entire Kabowei kingdom in Patani Local Government Area of Delta State was thrown into a carnival, as Delta State government officially presented the new king with staff of office.

One thing that might not be known to many is the intelligence and unassuming nature of the young king, who has just been crowned Peremobowei of Kabowei Kingdom. With his meek and disarming looks, he makes it difficult to know whether he is the modern day King Saul or David.

The people of Kabo tribe (Kabowei, Kabu-Owei) of Ijaw live in the vicinity of Patani in Delta State, Nigeria. The tribe got its name from its founder, Kabo, about 300 years ago. Two Kabo towns (Kolowari and Aven) are located along the creek. Other Kabo settlements include: Patani, Elemebiri (Ofonibeigbha), Asambairi, and Ekperiwari. And because of their close contact with neighbouring peoples, most Kabo are bilingual, as they speak their own Ijaw dialect, as well as Urhobo or Isoko language.

The Pere of Kabu-Owei is paramount ruler of Kabu-Owei Kingdom. One interesting thing about this particular kingdom is that it is located in two states of Delta and Bayelsa. The parts of the kingdom in Delta State are: Koloware, Aven. (Taware, Akowre, Ogemware, Ekise, Osou-ware, Okruware, Ajfenaware, Okruware). The ones known as Patani (Opu-Kabu) Asedeni and Pereware) are found in Abare, all in Patani Local Government areas of Delta State, while Asamabiri, Ekperi-ware, Elemebiri, Trofani Aduku, New Patani and Adagbabiri are all located in Sagbama Local Government Area of Bayelsa State.

It was, therefore, no surprise when almost all the kings in Ijaw land gathered on October 23, in Kabowei in Patani Local Government Council headquarters to witness the coronation ceremony of His Majesty Peremobowei Shedrack Erebulu Aduo III.