Emir of Borgu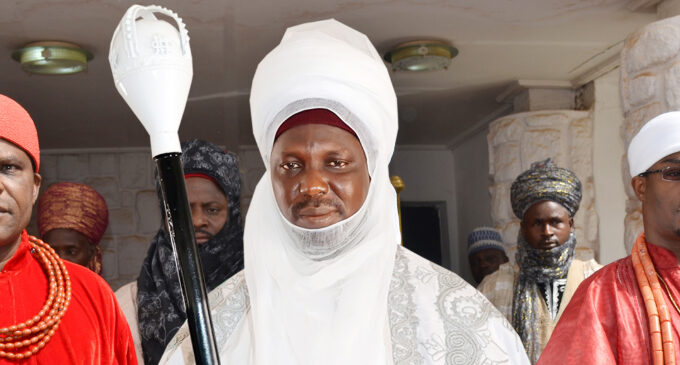 Title:
Emir of Borgu
Full Name:
Muhammad Sani Haliru Dantoro Kitoro IV
Lineage:
Kitoro
Coronation:
26-02-2002
Palace:
na
State:
Niger
Profile:

CITATION AND PROFILE OF HIS ROYAL HIGHNESS ALH. MUHAMMED SANI HALIRU DANTORO, LLB, BL, KITORO IV, MAI BORGU, EMIR OF BORGU KINGDOM

His Royal Highness, Barr. Muhammed S. Haliru Dantoro Kitoro IV, (Mai Borgu), the Emir of Borgu Kingdom, Chairman Borgu Emirate Council, Member Niger State Council of Traditional Rulers; former Senior Special Assistant to the Governor of Niger State on Political Matters, member Nigeria Bar Association, Director/Legal Adviser North Prime Biosys Limited, Director Synergy Shelter Limited, Chief Executive Marafa Synergy Limited, Principal Partner M.S Dantoro and Associates; former member Niger State Committee on Youths Restiveness; former Secretary, Borgu Emirate Council; former Assistant General Manager Finance/ Admin Himma Holdings, former Liaison Officer Dragetanos Construction Nigeria Limited, former Executive Director Legal and Corporate Affairs Himma Holdings Limited, Patron Think Nigeria first initiative, Patron Active Help Organization on Drug Abuse, Patron National Association of Borgu Emirate Students, Recipient of most illustrous Youth Award, Recipient of the most Inspiring Monarch of the Year Award by the 11th Nigeria Media Nite-Out Award 2017, a seasoned administrator; and versatile bureaucrat.

EARLY LIFE AND EDUCATION

The Emir was born in the historic town of Konkoso in the Borgu Local Government Area of Niger State on 2nd February, 1966 son to His Royal Highness Late Sen. (Dr.) Haliru Dantoro, Kitoro III, Emir of Borgu Kingdom and Hajiya Aishat Tuni daughter of Mall. Ibrahim from the Wawa Ruling House.

The Emir attended NEPA Senior Staff School, New Bussa from 1975 – 1981, before proceeding to Government Secondary School Ilorin 1981 – 1986. He proceeded to the prestigious Ahmadu Bello University, Zaria where he bagged a Degree in Law LLB (Hons) in 1992 and was called to the Nigerian Bar. having had his sojournworking with his late father in various capacities. His quest for Educational pursuit took him to Tafawa Belewa University Bauchi where he obtained a Post graduate Diploma PGD in Business Management. He them enrolled in the National Open University where he obtained PGD in Human Resource Management and Masters in Human Resources Management

WORKING CAREER

The Emir began his working career after graduating from Ahmadu Bello Universtiy Zaria, with Himma Holdings Limited, a private Company owned by his late father His Royal Highness, Dr. (Sen.) Haliru Dantoro, as the Legal Manager. After 3 years he was promoted and made the Executive Director of the Company in charge of Corporate and Legal Affairs, and also Liaison Officer of yet another Company chaired by his late father (Dragetanos Construction Nigeria Limited). The Company was later reorganized for prudence and efficient management, and he was reassigned as the Director of Finance and Administration for probity and accountability. After the Supreme Court ruling which declared his late father the Emir, he was then appointed as the Secretary of Borgu Emirate Council in May 2004. A position he held for three years before joining active politics.

The Emir was first appointed as Special Assistant (Political) to the Deputy Governor of Niger State from 2007 – 2010 and was reappointed as Senior Special Assistant to the Governor in 2011, position he held until 2014 when he resigned to go into active legal practice as principal partner of M.S Dantoro and Associates. A Legal firm with branches in Abuja, Minna, Kaduna, Lagos and New Bussa.In line with the tutelage of his late father, the Emir grew up to be a reverred businessman. He was the Chairman/Chief Executive Officer Marafa Synergy Limited, Director Synergy shelter Limited, Director/legal Adviser North Prime Biosys Limited, Legal Adviser Global Concept Limited, Chairman Marafa Travels and Tours Limited, Chairman Marafa Oil and Gas Limited.
The Emir was turbaned as Marafan Borgu by his father, the Late Emir of Borgu His Royal Highness, Dr. (Sen.) Haliru Dantoro CON, Kitoro III in the year 2004. A title he held until the demise of his late father on 30th October, 2015 where he was unanimously selected by the traditional Kingmakers of Borgu amongst 41 Princes that contested for the prestigious seat of Borgu Kingdom to succeed the late Emir. After due consideration the Niger State Governor Alh. (Dr.) Abubakar Sani Bello appointed him as the 17th Emir of Borgu on 7th November, 2015 to succeed his late father and was presented with the First Class Staff of Office on 29th October, 2016.
The Emir is well exposed to Legal, Administrative and Financial matters given his worth of experience and he has travelled extensively across the globe to many part of Europe, Middle East and African Countries.

It is widely acknowledged that Borgu Emirate is blessed with yet another leader whose insight, experience and contacts shall continue to flow like milk from a fountain. He shall continue to render service to his fatherland and humanity at large, both at the Local, State and Federal levels of Government. His Hobbies Include: Reading, Horse riding, and Traveling. The Emir is Married with Children.