Osun West monarchs to support Oyetola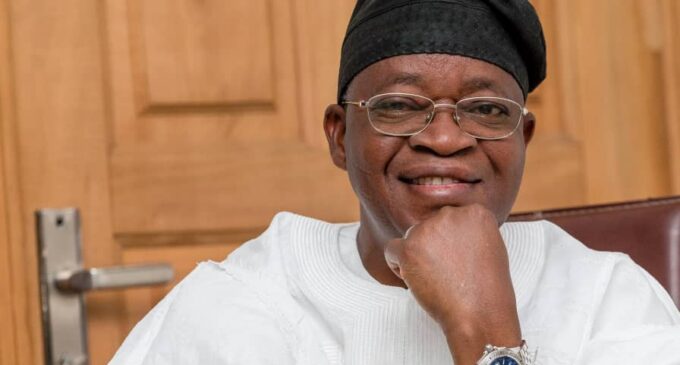 The traditional rulers of Ile-Ogbo, Kuta, Ikoyi and Oluponno in Ayedire Local Government Area in Osun West Senatorial District have assured the candidate of the All Progressives Congress (APC) in the September 22 governorship election, Mr. Isiaka Adegboyega Oyetola, of their support.
They spoke in turn as they received the team of IleriOluwa Campaign Organisation, led by Mr. Oyetola, in their palaces.
The royal fathers rallied support of their people for the APC candidate.
The monarchs said they were confident that Oyetola would not let the people down.
The Olu of Ile-Ogbo, Oba Abeeb Adetoyese Agbaje, said he was impressed by Oyetola's profile but advised him to ensure even development of the state, as seen under the Rauf Aregbesola administration.
A statement by the Media Officer of the IleriOluwa Campaign Organisation, Dayo Fasola, said the Olu of Ile-Ogbo told his people that he invited Oyetola to the community as mark of honour.
He said: "I am delighted to have you here. We invited you to receive our blessings. We have identified in you our good qualities of a governor and leader and we are ready to massively support your aspiration to ensure your success.
"If we deliver at least 24,000 out of our 25,000 votes, which is our electoral strength, would anybody object to that? No! We are for you and so shall it be. I would implore you however not forget Ile-Ogbo when you become the governor."
The Olowu of Kuta, Oba Oyelude Adekunle Makama, said: "Sir, Omoluabi Isiaka Adegboyega Oyetola, people who know me would tell you I don't mince words. I am a straightforward king. I want your assurance that Osun would continue to advance during your tenure. Our economy, agriculture, education and other sector must not go down because you already have our votes here in Kuta."
The Onikoyi of Ikoyi, Oba Afeez Adigun Badeji, urged his people to support the APC candidate, saying: "Our votes here in Ikoyi are for no one else but Alhaji Oyetola."
The Olupo of Oluponno, Oba Onaolapo Oyeleso Oyebamiji, said: "There is a hundred per cent assurance that you will be our next governor. We invited you to our town, Oluponno, for blessings from my throne."
Oyetola said he had been energised by the support he received from the communities.
The APC candidate, who promised to rededicate himself to the service of the state, added: "I thank our fathers and their people for receiving me with open arms. I am giving you an assurance that I am indeed here to serve. In the end, Osun people will have nothing but prayers for me."