Oba of Ogbomoso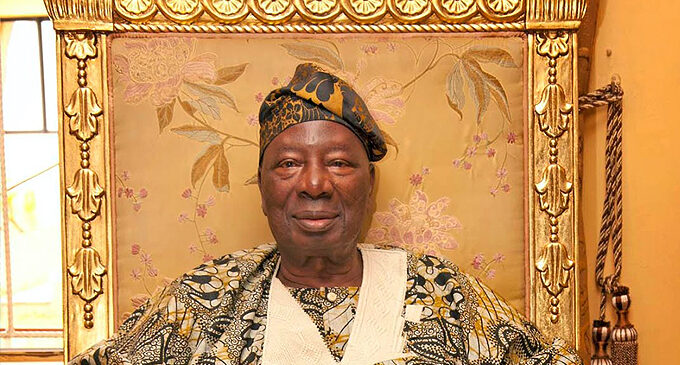 Title:
Oba of Ogbomoso aka Soun of Ogbomoso
Full Name:
Oladunni Oyewumi Ajagungbade III
Lineage:
Ajagungbade
Coronation:
24-10-1973
Palace:
Aafin Ogbomoso
State:
Oyo
Profile:
Oba Jimoh Oladunni Oyewumi Ajagungbade III JP, CON, Soun of ogbomosoland was born on May 27 1926. His father was Oba Bello Oyewumi and is mother was Alhaja Selia Olatundun Adunni Oyewumi . Oba Bello Oyewumi married so many wives and had 63 children.

Prince Oladunni Oyewumi was the youngest of his mother's three sons, which attracted open rivalry, serious recriminations and unpretentious jealousy among the other olori(wives) whose children are mainly female. After the birth of Prince Oladunni his mother Olori Olatundun abandoned the feuding in the palace, and relocated to Ibadan to live with her uncle. After six years in Ibadan Prince Oladunni started his elementary education at St Patrick School, Oke Padre.

Prince Oladunni to travel to Jos on May 17, 1944 and worked as a textile trader. His next career saw him venture into the buying and selling of bicycles from Lagos.

Prince Oladunni was visiting G.B Ollivant merely for window shopping when he met one Mr Smith, a Scot and one of the company managers is with whom he struck an instant friendship which led to a business .The intimacy and interaction with Mr Smith ,the G.B ollivant expatriate manager ,sharpened Prince Oyewumi 's business acumen and instilled discipline in him .Rapidly , he expanded his business horizon and got involved in bigger deals with PZ, SCOA and CFAO, among other conglomerates.

To assist the young Prince Mr Smith introduced him to Mr Holford,the Manager of Barclays Bank where he opened an account in 1949. By 1950, Prince Oyewumi had become sufficiently established in his trading business that he decided to get married. Consequently he got married to his most senior wife Olori Igbayilola Oyewumi. By 1958, the wealthy prince had started showing interest in estate development and property acquisition and in that same year the Prince met a European who so much admired his entrepreneurial ability that he offered to take him on a business vacation trip to the continent of Europe. Upon which they travel to France, Paris and United kingdom.

In 1973 when the Oyo state governor invited the Gbagun ruling house to present candidate for the appointment as Soun of Ogbomosoland after the passing of the former king, ninety four members whom were of the gbagun ruling house met and two candidates emerged to contest for the vacant stool but it turned out that 90 out of the 94 decision makers favored the candidacy of Prince Jimoh Oladunni Oyewumi. With such overwhelming support, Prince Oladunni became the Soun to the delight and acceptance of his people.

Ki ade pe lori, ki bata pe le se.