Obi of Onitsha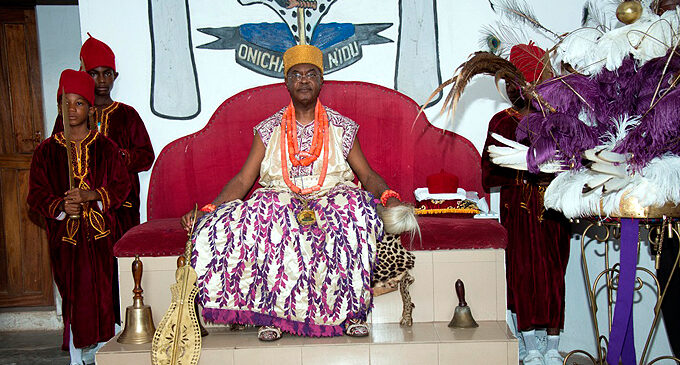 Title:
Obi of Onitsha
Full Name:
Nnayelugo Alfred Nnaemeka Achebe
Lineage:
Chimedie
Coronation:
03-06-2002
Palace:
na
State:
Anambra
Profile:
His Majesty lgwe Nnaemeka Alfred Achebe was born in Onitsha on 14 May, 1941, the first child of Akunne Anthony Chinwuba, and Chukwuebuka Winifred Ogbenyeanu Achebe. He is a direct and unblemished descendant of Ezearoli, through the lineage of Chimedie, Oreze Obi, and Aguzani. His mother hails from Umu Olisa in Odoje, whilst his wife Chinwe Ngozi (nee Ononye) is from Umu Osodi, Inosi Onira of Ogbeabu. His paternal grandmother is from Umu Onuma of Obikporo whilst his maternal grandmother hails from the royal Ornozele Sineage of Umu Ezearoli. He has six children – four daughters and two sons – Ezennia Odiakosa, Chinedu, Eziamaka, lfunanya, Uchenna and Chinwe.

lgwe Achebe has had a sound preparation for life through his education. With excellent results from his primary and secondary schools, he gained admission in 1963 to the prestigious and world famous Standford University in California, USA, where he took a Bachelor's degree in Chemistry. This was followed with a Master's degree in Business Administration in the equally famous Columbia University in New York City, also in the USA. He continued to develop his 'skills and abilities through the opportunity of many local and overseas in-service training programmes during his entire career. His educational attainment was crowned when he was nominated in 1979 to the maiden set of the Senior Executive Course of the exclusive National institute for Policy and Strategic Studies in Kuru, Jos, which is aimed at developing high-level leadership in the public and private sectors in Nigeria.

After a brief working experience in the USA during the period of the civil war, lgwe Achebe returned to Nigeria in 1972 to begin a long and fulfilled career with the Shell Petroleum Development Company of Nigeria. Over a period of 30 years, he held positions in several strategic functions, including Human Resources, Operations, External Relations, General Management and international Representation/Reputation Management.

He demonstrated very early the potential to rise to senior levels in the global Shell group of companies and was appointed to the board of directors of Shell Nigeria barely nine years afterjoining the company. This was a record achievement that has remained unequalled in the company. His other achievements include the management of the Eastern Division of the company with responsibility for hundreds of millions of dollars and the production of one-quarter of the nation's oil output (500,000 barrels per day).

As Head of Human Resources Development, he set up a manpower planning and development system that gave young but competent Nigerians the opportunity to rise fast to commanding positions in the company. The system is still in place and provides for up to 200 Nigerian staff of Shell Nigeria to be on overseas posting with other Shell companies at any given time. It is gratifying that several Onitsha indigenes have benefited from this scheme.

As the pioneer General Manager and Executive Director for External Relations, lgwe Nnaemeka Achebe set up the policy and framework for relationships with external stakeholders, particularly in oil producing communities of the Niger Delta. His undoubted vision and foresight made it possible for the company's expenditure on community development to grow from $12 million in 1991 to over $40 million when he left the position in 1996, and some $60 million today.

On reaching the normal retirement age of 55 years in 1996, the company requested lgwe Achebe to continue to provide his invaluable experience and expertise to the organisation by a special arrangement. He was transferred to Shell International in London, where he effectively acted as ambassador at large for Shell Nigeria with the title of Senior Corporate Adviser until his coronation as Obi of Onitsha. This position brought him in close working contact with international figures in politics, business, the academia and civil society. He has travelled and lectured widely, including universities and professional organisations, and featured on international electronic and in print media, including CNN, BBC and Reuters.

In Nigeria, he has over the years, by personal development and through his professional and other connections, nurtured effective access within the highest levels of government, the public service, and the private sector. His membership of the Alumni Association of the National institute for Policy and Strategic Studies, with such fellow members as General lbrahim Babangida, has been invaluable in this regard. In particular, he has acquired an impeccable knowledge of the oil industry and the role of petroleum In the political, economic and social dynamics of Nigeria and the world at large.