Details of Buhari's meeting with Isoko leaders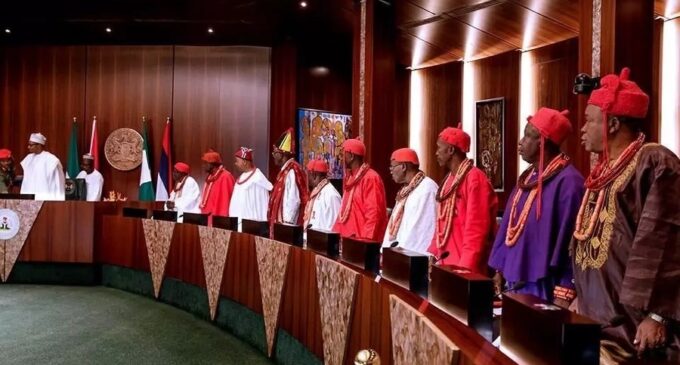 President Muhammadu Buhari, Friday in Abuja said his administration will look into the constitutional 13 per cent derivation benefit to the Niger Delta region to ensure even spread of developmental projects that meet the needs of the people.
Receiving Isoko Traditional Rulers and personalities led by His Majesty, Ovrawah, Omogha 1, Odiologbo of Oleh, at the Presidential Villa, President Buhari assured the royal fathers that the constitutional provisions for Niger Delta development will be carefully studied for inclusiveness, especially in the prioritization of Federal Government projects.
"I have listened attentively to your address and I will still update myself with details of development in your area as it relates to oil and gas, and lack of infrastructure.
"I will look at the constitutional 13 per cent derivation and what previous governments have done, in order to know what we can do," the President said.
President Buhari said the Isoko kingdom had very qualified citizens that have distinguished themselves in various professional and entrepreneurial skills in the country, expressing surprise that the domain was not adequately captured in Federal Government appointments.
"I will revisit your address and ask for clarification. I will do my best on this issue," he added.
In his remarks, the President General of the Isoko Development Union and spokesman of the traditional rulers, High Chief Iduh Amadhe, commended President Buhari for, "performing well" in leadership, while urging him to consider some anomalies in the spread of development projects in the Niger Delta.
"With eight oil fields of flow stations in Isoko land, we appeal to His Excellency to direct NNPC to establish a gas plant and a modular refinery in Isoko land. It will be beneficial to the nation and it will create employment and generate revenue,"!he said.
High Chief Amadhe said the Isoko community and its indigenes had been sidelined in Federal Government appointments, with the last appointment of a minister in 1975, noting that the region was also ignored in siting of federal educational institutions, skill development centres and infrastructure.
"Your Excellency, no meaningful project has been sited in Isoko since the inception of the Ministry of Niger Delta Affairs," he added.