Sarkin Zamfara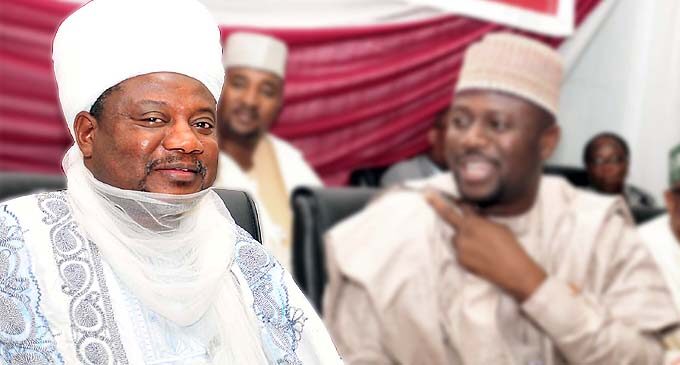 Title:
Sarkin Zamfara
Full Name:
Muhammad Attahiru Ahmad
Lineage:
Coronation:
00-00-1993
Palace:
na
State:
Zamfara
Profile:

Alh. Attahiru Muhammad Ahmad, the 56th Sarkin of Zamfara and the 1st emir was born in 1961 at a village called Matseri, about 16 kilometers away from Anka town. He started his education career as early as 1965 at Qur'anic school in Matseri and continue perusing Islamic education at Anka under the supervision of his uncle late, Malam Yahaya Ahmad in 1967, the same year his father ascended the throne as 55th Sarkin Zamfara. Having been grounded on the rudiments of Islamic religion. His Royal highness enrolled with Anka town primary school in1968. he however continued pursuing the Qur'anic education along with western education.

After his primary education was admitted into Government secondary school, Gummi (now unity collage) in1974. it was here that Attahiru quality of leadership began to manifest. He was assigned with the responsibilities of mails (mail prefect) and House prefect in1978 and 1979 respectively. After his secondary education, Attahiru gained admission into sokoto state collage of Arts and science (SCAS) where he pursued and successfully passed the interim joint admission and matriculation examination (IJMB) which prepared him for direct entry into one of the prestigious university in Nigeria, Bayero University Kano in 1982. He read combined honors degree in political science and English and graduated in the year 1985.

After graduation HRH participated actively in the one year NYSC program and serve in Kaduna state. That was during the 1985/86 service year. With a sound educational base, the emir started his working career at the federal ministry of external affaires now ministry of foreign affairs in 1987. His 1st appointment was third class secretary and he eventually rose through the ranks up to the post of counselor. While in foreign service. His highness attended a number of on-the-job training including the prestigious foreign service academy (FSA). His dedication and commitment made him to secure membership of the Nigerian institute of international affairs (NIIA) in 1989 of which he is still a full member.

In 1991 he was posted to Sudan embassy of Nigeria in Khartoum as the second secretary. At Sudan he was assign many responsibilities that eventually prepared him for his present exalted positions. While in Sudan, HRH was able to attain the positions of second-in-command after the death of the ambassador, he hold the position of the president of of African Diplomatic Associations (ADA) in the republic of Sudan in 1994. he was also a member the commonwealth club while in Sudan. It was after the death of his father in November, 1993 that he was appointed as the Sarkin Zamfara and was subsequently appointed as the emir of Zamfara and chairman Zamfara sate council of chiefs in the year 1997.

Between the years of 2003 t0 2004. his royal highness proceeded to Ahmadu Bello University Zaria where he successfully pursed Masters Degree in International law and diplomacy thereby becoming the first emir ever to have gone back to school for further education. His royal highness holds various responsibilities positions in the country. He is vice president General of the supreme council for Islamic affairs. He is also vice president general Jamaatul Nasril Islam (JNI). Emir Attahiru is also the chairman JNI committee on Health, social welfare and disaster relief. He is a grand patron of many organizations and associations. The emir of Zamfara has unique status and character, which are so dynamic and appealing that will make you instantly develop respect and love for him. He is ever ready to champion the cause of truth. He candidly tells the truth with regards to any issues of local, sate, national and international levels.

Another thing worthy of note is the emir's contributions to national development. He has, through his royal position been involved in many national assignments. he has taken it on himself to contribute his quota in the educational development of his people. In order to show how committed he is to educational development, the emir set a record of being the first chairman of the state council of chiefs to have enrolled for masters degree while still serving as an emir, in addition the emir was through the Anka Emirate development association (ANKEDA), established a private primary schools that is being sponsored by his emirate. The emir had also established Islamiyyah schools in all the fourteen district pf his emirate with recruited qualified Islamic instructors that are being remunerated by Anka emirate.

These schools are to serve as avenue for obtaining basic Islamic religious knowledge, there by preventing children from attending school outside their areas, which leads to street begging. HRH is recipients of many awards including the National Honors Award CON bestowed on him by former president Olusegun Obasanjo GCFR in 2002. HRH the emir of Zamfara travel widely through out the globe, some of the countries he visited are; KSA, Egypt, Ethiopia, India, South Africa, Indonesia, Italy, UAE, and Kenya. He is happily married with children and he enjoys discourse reading, traveling and interactions with common people.