Chun Mada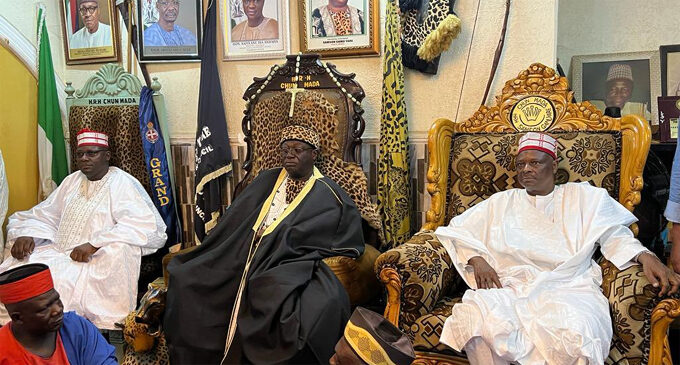 Title:
Chun Mada
Full Name:
HRM Chief Samson Gamu Yare II
Lineage:
Gamu Yare
Coronation:
31-07-2013
Palace:
na
State:
Nasarawa
Profile:

Birth and Marital Status

Mr. Samson Gamu Yare is a renowned prince in Mada land who later became a first class paramount ruler of Mada, as following his selection on 31st July, 2013 upon the return of sanity in the Mada Chiefdom after the demise of his father Late Mr Gamu Yare on the throne on 17th January, 2011, as Chun Mada II.

His Royal Highness was born on 8th July, 1963 in Mubi in the defunct Gongola State, to the family of Late CSP Gamu Yare, Rtd of Ngwampeh village,Ningo/Bohar district of Akwanga Local Government Area, Nsarawa State. He is married to Mrs. Rahila Samson Yare and blessed with a child and many dependants.

Education

He began his education in LEA Primary School, Independence way, Kaduna from 1970-1976 and obtained a First School Leaving Certificate (FSLC). From 1976 to 1981 he attended Government Secondary School, Wamba, where he obtained a General Certificate of education (GCE) O' level. In 1984 he secured admission into Bauchi College of Arts and Science (BACAS) Bauchi and graduated with Interim Joint Matriculation Board (IJMB) in 1986. He later proceeded to University of Jos and obtained Diploma in Public Administration (DPA) and Advance Diploma in Public Administration in 1989 and 1990 respectively.

He later proceeded to the Federal University of Technology Akure (FUTA) and obtained a Post Graduate Diploma (PGD) in Personnel Management in 2000 and later National Open University of Nigeria (NOUN), Lafia campus from 2007-2009 for Master degree in Public Personnel Management (MPA).

Career

The Royal Father began his working between 1981 and 1983, with the National Institute of Policy and Strategies Studies (NIPSS) at Kuru, Jos as a Clerical officer- General and resigned to further his education.

In May 1987, he secured employment with the Toro Local Government Education Authority (LGEA) Bauchi State as Assistant Executive Officer-Admin and lattertransferred his service to Akwanga Local Government Education Authority in May 1992.

As a committed, dedicated, loyal and obedient servant, he rose though the ranks as Executive Officer-Admin, Higher Executive Officer-Admin, Senior Executive Officer-Admin and Senior Personnel Officer, until his services was transferred to the headquarters of the State Primary Education Board (SPEB) now State Universal Basic Education Board (SUBEB), Lafia where he retired as a Deputy Director of Administration on 31st July, 2013, following his selection as Chun Mada.

   ADHOC RESPONSIBILITIES AND POSITION HELD

Secretary, task force on Revenue Mobilizations in Akwanga LGC- 1998-1999

Secretary, task force on Petroleum, Akwanga LGC- 1999-2000

Secretary, SPEB Management Committee Meeting- 2000-2013

Secretary, SPEB Board meeting- 2000-2013

Secretary, SPEB Finance and General Purpose Committee meeting- 2000-2005

Secretary, SPEB Management/Education Secretary's meeting- 2000-2013

State Universal Basic Education Board (SUBEB), litigation Desk officer- 2000-2013

Secretary, staff salary verification exercise- April, 2003

SUBEB HIV/AIDS project team monitoring and Evaluation Officer- 2005-2013

Secretary, Teachers promotion verification exercise, Nasarawa West Senatorial zone- February, 2007

Secretary, Teachers promotion and arrears implementation Committee, Nasarawa West Senatorial Zone-July, 2007

Member, Asset Sharing Committee on Toto LGA/Gadabuke DA – March, 2013

Other Adhoc Duties and Unionism

In quest for youth development, HRH Mr. Samson Yare have been in love with Youth advocacies. He held various capacities of Youth leadership during his time, amongst which include:

Director of Socials, National Youth Council of Nigeria, Akwanga chapter- 1994-1996.

Deputy Chairman and later the acting Chairman, National Youth Council of Nigeria, Akwanga chapter in 1998-2000.

Secretary and later Chairman of Nigeria Labour Congress, NLC, Akwanga chapter in 1995-2000.

Member, Governing Board, GCE, Doma in January, 2013.

The Royal Father also held various leadership positions in civic and religious organizations for the enhancement and development moral values, unity, peace and progress of human kind and the society at large.

Researches Undertaken

As a hardworking personality, Mr. Samson G. Yare has undertaken some meaningful research work, precisely in the sector of administration which is his main career. These include:

Effects of financial constraints on the administrative sector of Toro LGEA, Bauchi State. Being a research conducted in 1990 while in University of Jos.

Financial Constraints and its consequences on Akwanga LGEA, Plateau State. A research work conducted in 1996 while in the University of Jos, Nigeria.

Factors affecting Administrative effectiveness: A case study of Akwanga LGEA of Nasarawa State. This was also a research work conducted by HRH S. G Yare as a post graduate student with the Federal University of Technology, Akure in the year 2000.

Chief Yare S.G also carried out an effective research on "the effects of financial constraints in the administration of Public Schools in Nigeria." This he undertook while a masters degree student with the National Open University of Nigeria (NOUN) Lafia.

All the researches were aimed at improving the lot of human dignity and recognition of values for the well-being of humanity.

Ascension to the Throne of Mada Chiefdom

Mr. Samson Gamu Yare have hearkened to the clarion call by his people, contested and won the stool on the 31st July, 2013. His selection by the College of selectors was hitherto approved by the Government of Nasarawa State-Nigeria as Chun Mada of First Class status and was well and widely celebrated.

Mr. Samson Gamu Yare thus, became the third Chun Mada after the reign late Mal Iliya Rini I and Gamu Yare, who were the First and second Chun Mada respectively.

His selection and subsequent appointment, ushered new lease of life and hope for Mada's, in view of the protracted tussle over the stool which spelt doom to the yearnings and inspiration of the people in the resuscitation of the revered traditional institution. We now desire to witness speedy development, peace, and above all unity in the land.

Interests

 His hobbies include reading and farming as well as athletics. He is well traveled.