Ataoja of Osogbo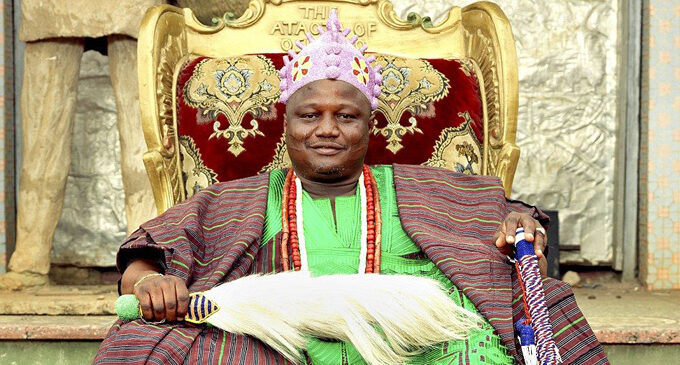 Title:
Ataoja of Osogbo.
Full Name:
Iyiola Oyewale Matanmi III
Lineage:
Matanmi
Coronation:
27-07-1976
Palace:
Ataoja\'s Royal Palace
State:
Osun
Profile:
The number one indigene of Osogbo land, the great Oba Iyiola Oyewale hails from the Matanmi ruling house (There are Four established ruling houses in Osogbo land). He is born to Pa Shittu Amoo and Madam Sabitiyu Ajile Oyewale.He had his elementary education at the St. Andrews Primary School, Oke-Baale and the St. John Primary School, Ita-Olookan, both in Osogbo.

He later proceeded to the Teachers College and practiced teaching profession for sometime. His hard work and quest for more knowledge later took him to Yaba College of Technology, Lagos where he studied Accountancy.

Oba Oyewale later took other management and professional courses at the Universities of Ibadan and Lagos and the Folks Lynch Institute, London. He earned Graduate and Associate membership A.C.C.A , Great Britain; Fellow, Institute of Chartered Accountant of Nigeria (ICAN); and Member, Nigerian Institute of Management (MNIM).
Young prince Oyewale, had his fair deal of his professional career before ascending to the throne of his fathers, these include working as Special Assistant to the University Bursar on Financial Planning and Budgeting at the University of Lagos. The dynamic Oba Oyewale is also a partner at Ogunbanjo Okunbule Firm of Chartered Accountant.

The Kabiyesi is not only an accomplished Chartered Accountant, he has also demonstrated his intellectual creativity in a number of publications and other journals. Amongst his hand works are: The Role of Traditional Rulers in Nigeria (1981); The Role of Traditional Rulers in Local Government Administration 1986).

Oba Iyiola Oyewale has carried this same dynamism to his wise and organized system of ruling over his 300,000 subjects. May he live long to continue to administer justice and wise counsel over his people.

Ki ade pe l\'ori, ki bata pe l\'ese Oba o. Ase!