Etsu Nupe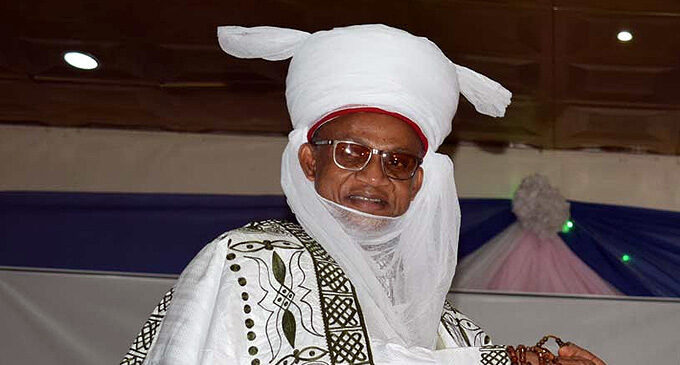 Title:
Emir of Bida, Etsu Nupe
Full Name:
Alhaji (Dr) (Brig. Gen) Yahaya Abubakar
Lineage:
Etsu Nupe
Coronation:
11-09-2003
Palace:
Etsu Nupe Palace
State:
Niger
Profile:
Alh. Yahaya Abubakar was born on 12th of September 1952 in Bida. He began his educational career at East Junior and later Sabongida Primary Schools, all in Bida, between 1957 and 1964. In 1967, he went to Government College, Sokoto and later Commercial College, Kano and finished in 1971. By 1973, young Yahaya's desire to join the Nigerian Army had matured. So in the same year, he enrolled into the Nigeria Defence Academy (NDA), Kaduna and graduated in 1975 armed with the Nigeria Defence Academic Certificate of Education (NDACE).

Alhaji Yahaya's military career began with courses in 1976 when he was sent on the Young Officer's Course (Armour) in January of that year and finished in April. Between March and August, 1977, he attended Armour Officers Course in the United States of America. By May 1979, Yahaya Abubakar was in India to attend yet another professional course. This time, it is the Regional Signal Officers Course (RSO); he finished in August same year.

Between January and April 1980, he was in Jaji to attend the Surveillance Platoon Command Course, this time on Junior Division Staff Course and finished in June of the same year. By September 1982 he went to the United States of America for Adjutant General course and finished in February 1983.

Having rested for almost two years without attending any course, the Nigerian Army felt it was time to send him on another one in September 1985. This is the Tank Technology Course, which he finished in September 1986. He later went for the command and staff course in Indonesia between September 1988 and March 1990. By January 1993, he was in Jaji for the Commanding Officers Course. He finished in April of the same year. Between July 2002 and July 2003, he was in Egypt to attend the National Defense Course.

Alhaji Yahaya Abubakar's working experience with the Nigeria Army started in 1976 when he was appointed the General Staff Officer 3 Training at Hq 21 Armour Brigade till 1977. Between 1978 and 1980, he was Aid De Camp (ADC) to the General Officer Commanding 4 Infantry Division, Nigeria Army. In 1979, he was appointed Officer Commanding Support Company and between 1983 and 1985, he was Senior Instructor (ACCS). Also between 1987 and 1988, he was appointed Staff Officer 11 (Manpower DOA), from 1990 to 1992, he was General Staff Officer (SD/PLANS, HQ 3 Armoured Division).

Between August 1992 and July 1993, he was the commanding 231 Tank Battalion and Commanding Officer 212 Tank Battalion. August 1996 to July 1998 saw him as commanding officer (NIBATT 27 ECOMOG). Also between August 1998 and August 1999, he was Deputy Commandant, Depot, Nigeria Army, Zaria. From August 1999 to January 2002 he held the position of Commander, Multi-National Joint Task Force (MNJTF) Lake Chad Region.

On July 2003 he was appointed Director, Peace Keeping Operations at Army Headquarters (AHQ), Abuja, a position he held until his new appointment as the 13th Etsu Nupe on 11th September 2003 after the death of Alhaji (Dr) Umaru Sanda Ndayako.

Alhaji Yahaya Abubakar has bagged many Armed Forces Awards. These are Forces Service Star (FSS), Meritorious Service Star (MSS) and Ecomog Medal (em). Others are National defense College (ndc) Egypt and Pass Staff College (PSC) Awards. Until his new appointment as Etsu Nupe Alh. Yahaya Abubakar was a Colonel in the Nigerian Army. He was however, promoted Brigadier General on retirement and was awarded the National Honour of Commander of the Federal Republic (cfr) on 16th December, 2004.